For both our fiber and wireless customers, Secom now offers a leased WiFi router for those of you that don't want to deal with the hassle of buying, configuring, and maintaining your own.  The cost to lease a Gigacenter is only $5/mo, which is much lower than other carriers charge (typically $9 to $15 per mo)
Q: Why choose a GigaCenter for my home or business?
A: The GigaCenter is a powerful, carrier-class Wifi router that will allow you to connect all of your devices and get the highest speeds available. Instead of needing to purchase a WiFi router, configure it, and spend the time and headache maintaining it, SECOM now offers the GigaCenter as an all-in-one solution: The GigaCenter provides superior Wi-Fi coverage, ease of use, and SECOM will provide maintenance for it for the lifetime of your services. Having problems? Our Technical Support team has the ability to remotely view, diagnose and perform routine maintenance on your Gigacenter so you don't have to.
Q: What speeds are achievable with Wi-Fi through a GigaCenter?
A: GigaCenters support the latest Wifi standard (802.11ac) that can achieve 200+ Mb/s speeds in ideal conditions. As with all Wi-Fi equipment, range, interference, your service plan, and the capability of the devices connecting can affect speeds, but with our technical support dashboard we can see potential problems, make changes and offer suggestions for optimal Wifi experience. Simply put, it's incredibly fast and reliable, specifically engineered to perform for the Internet services we offer.
Q: Can I plug my PC, Xbox or other internet device into a GigaCenter?
A: Yes! There are 4 Gigabit-capable Ethernet ports available for all of your wired devices too.
Q: Can I run voice/phone lines through SECOM from a GigaCenter?
A: Yes! There are two phone ports available for voice service. If you need more, SECOM may be able to install additional hardware to support your needs
Q: Is there a user guide for the Gigacenter web interface?
A: Yes! Click here to download the user guide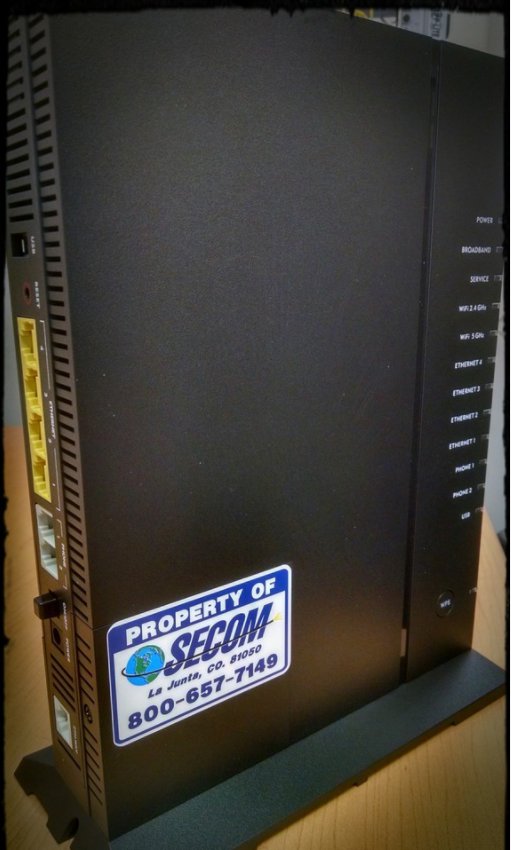 Q: What are the technical specifications of the 844G Gigacenter?
A: See Tech Specs below
Technical Specs:
Wireless:

2.4GHz and 5GHz, simultaneous dual-band
5GHz 802.11ac certified, 802.11a/g/n compatible
2.4GHz 802.11n certified, 802.11b/g compatible
WPA/WPA2
WPS push-button
WEP 64/128 bit encryption
Eight SSIDs per band with factory default SSIDs
MAC filtering

Home Gateway:

Layer 2 bridge and Layer 3 routing for High Speed Internet (HSI) data and IPTV video services
DHCP server options
DHCP (IPoE) and PPPoE network connections
Network Access Translation (NAT), public to private IP addressing
Configurable IP address schemes, subnets, static-IP addresses
DNS server
Bridge port assignment and data traffic mappings
Port forwarding
Firewall and security
Application and website filtering
Selectable forwarding and blocking policies
DMZ hosting
Parental controls, time of day usage
Denial of service
MAC filtering
Time/Zone support
Universal Plug-and-Play (UPnP)

Four Gigabit Ethernet (GE) interfaces:

Multi-rate 10/100/1000 BaseT Ethernet, autonegotiating

Two voice lines
Attachments: